Squats are the cornerstone exercise in lower-body strength programs, helping to strengthen and grow muscles in the quads, glutes, hamstrings, hip flexors, lower back, and core muscles. But it's easy to be wrong, and you may not even realize you're making mistakes.
Pain in your lower back or joints could indicate that your form may be out of place, as could the "butt wink," common in beginners or people with limited mobility, which causes the lumbar spine to round.
But fear not because we've delved into the squat technique below. Find out how to squat with perfect form, the benefits, and common mistakes below.
Squats: benefits
Squats are a compound exercise that primarily strengthens and builds lower body muscles, especially powerful muscles like the quads and glutes. Squats take many forms, from goblet squats to sumo squats, and you could use your own body weight, resistance bands, the best adjustable dumbbells, barbells, or kettlebells.
In short, the options are endless. And other forms, like yogic and Cossack squats, are even used to increase flexibility and increase range of motion in the lower body, including the back, hips, knees, and ankles. Developing more range of motion could help you improve squat depth and maximize the benefits of the exercise.
Squats form a big part of strength training, peak powerlifting, and cardio workouts, so there's something for everyone. Find out how to test your one-rep max here and why it's important to developing your squat potential.
@coachmarkv ♬ TO THE MOON – Jnr Choi and Sam Tompkins
How to squat
Here are the step-by-step instructions.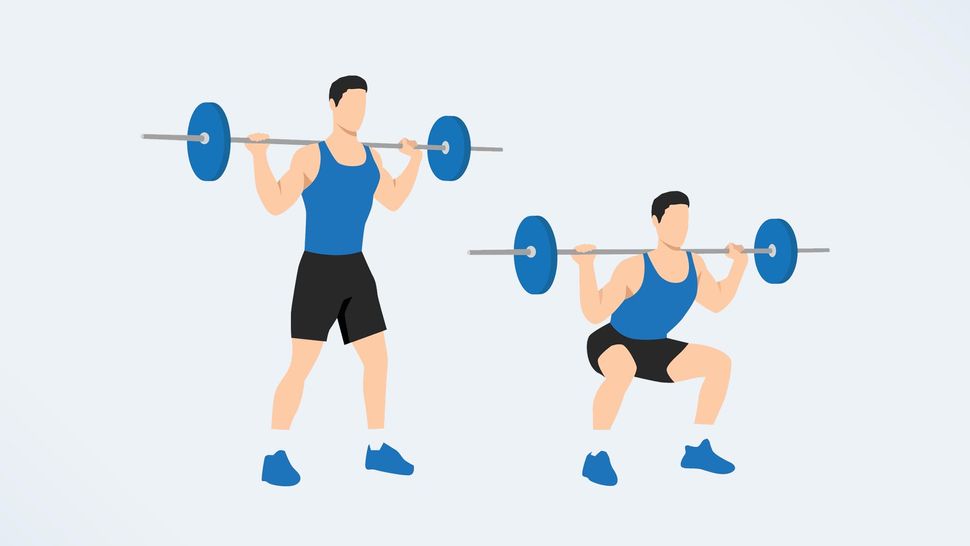 Stand with your feet hip-width apart or shoulder-width apart. You can place your feet slightly wider
Point your toes slightly outward at a 45-degree angle or pointing forward if it's more comfortable. Engage your core
Bend your knees and swing your hips back as if you were sitting in a chair directly below you
As you squat down, push your knees out so they follow your middle toes directly and keep your weight evenly distributed between your feet
Lift your chest, continue to look straight ahead, and keep your back flat. Avoid curving or rounding your spine
Lower yourself until your thighs are parallel to the floor, keeping your knees aligned with your toes, heels planted, and spine neutral, then push through your heels to push yourself back up.
Squats: common mistakes
We've devoted entire articles to this, from limited mobility to lifting too heavy. If you think you might be doing squats wrong, here's the most common mistake and how to fix it. We also covered butt winking earlier in this article if it sounds familiar.
But here are the four most common squat mistakes that we see summarized below.
Raise your heels
Limited range of motion in the hips, knees or ankles may prevent you from reaching depth in the squat. When this happens, people often shift their weight onto their balls of feet and lift their heels, putting more pressure on the joints.
Keep your heels planted low, creating a tripod foot position. Remember, your feet are the foundation for setting up the squat exercise, so it needs to be solid. Focus on three points of contact: heel, big toe and little toe, distributing weight evenly across the foot and preventing the knees from rotating inward.
Knees giving way
As mentioned, knee turning is the opposite of what we want to see during squats. Externally rotate the knees into a tripod foot position. Practice turning your knees to follow the line with your toes and notice how your hips open. Now squeeze your glutes to engage and strengthen the tripod position by pressing down through your feet.
Shrink
Ah, the famous wink. Squat novices or those with narrow hips or ankles may find it more difficult to achieve depth in a squat. Face a mirror to the side, then squat, keeping an eye on your lower back. If you notice the rounding, it's a wink. We cover everything you need to know earlier in this article.
Knees and toes
If you like hitting the gym, chances are someone told you it's "bad" if your knees follow your toes during squats. False. What Truly it boils down to flexibility and excessive forward lean.
If you can lower yourself into a deep squat while keeping the form tight, it's okay if your knees travel slightly past your toes. However, if moving the knees too far forward and lifting the heels occurs in tandem, it can indicate a lack of flexibility and stress on the knees.
Also, each one is built differently and with different mechanics. Next, focus on lowering yourself directly to the floor, sending your hips behind you and hinging at your hips with a high posture, and avoid driving with your chest; this should help nip excessive lean in the bud.
More from Tom's Guide
#Squats #perform #benefits #increase #strength #leg #muscles
Image Source : www.tomsguide.com